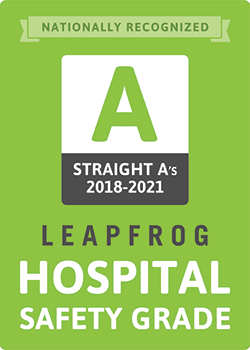 Based in Cape Girardeau, Missouri, Saint Francis Healthcare System offers services 24 hours a day, seven days a week to more than 715,000 people in southeast Missouri and in a five-state region. Guided by our Mission to provide a ministry of healing, wellness, quality and love inspired by our faith in Jesus Christ, we have become a progressive, innovative regional tertiary care referral center.
In everything we do at Saint Francis Healthcare System, we focus on helping you live your best life. By designing safe, high-quality care, each detail is carefully thought out to deliver an unparalleled patient experience, every time.
Our success is not only measured by our internal metrics but also by publicly available ratings and grading scales, which are designed to help you make smart healthcare choices for you and your family.
Saint Francis Medical Center has received numerous consecutive 'A' ratings from Leapfrog, as well as a four-star rating from the Centers for Medicare and Medicaid Services.
---
Options to Meet Your Needs
Offering two benefit structures – PPO and Reference-Based Pricing – Employers can choose options to meet their needs. Each structure is designed to support local providers and keep care local. Members receive the best benefits when seeking care within our community. If care is needed outside the community, comprehensive benefits still apply.
Emergency care is ALWAYS provided at the Tier I level of benefit regardless of where the care is provided.
---
Our Network
Plan participants have access to Saint Francis facilities and providers, as well as other local providers outside the Saint Francis network. This collaboration keeps care local while reducing costs and benefiting the communities we are called to serve.
---
Meet Your Health Plans Staff